Business History
Started in 1969 with one store in Chelmsford Essex, Allan Pierce set out to capture the burgeoning DIY market. This was supplemented by the increasing trend to own your own house and the right to buy from a council tenancy. The store was called House of Heating and with a captive audience of DIY home improvers the company grew to four stores throughout the UK.

From this base a joint venture was struck to place House of Heating branches in 25 concessions inside Texas Homecare as a specialist supplier of central heating. The benefits where mutual and this led to Texas purchasing House of Heating as their brand and rolling out the concept in a large number of stores.

This sale in 1982 allowed Allan Pierce to reinvent the concept of supplying central heating to homeowners and trade alike and the counter at front and centre in the six remaining stores was developed. This meant that stock was kept at the back of store and targeted sales was at the front with a real customer centric ethos that was widely accepted as the norm for plumbers merchants.
As House of Heating was being used a new brand needed to be established and this was the year that Mr Central Heating became the title for the six stores. Mr Central Heating increased in size from 1982 – 1989 with the addition of bathrooms and the brand Simply Bathrooms was borne. At its time the Simply Bathrooms brand boasted the largest bathroom showroom in Europe, with over 600 bathroom suites and shower enclosures on display.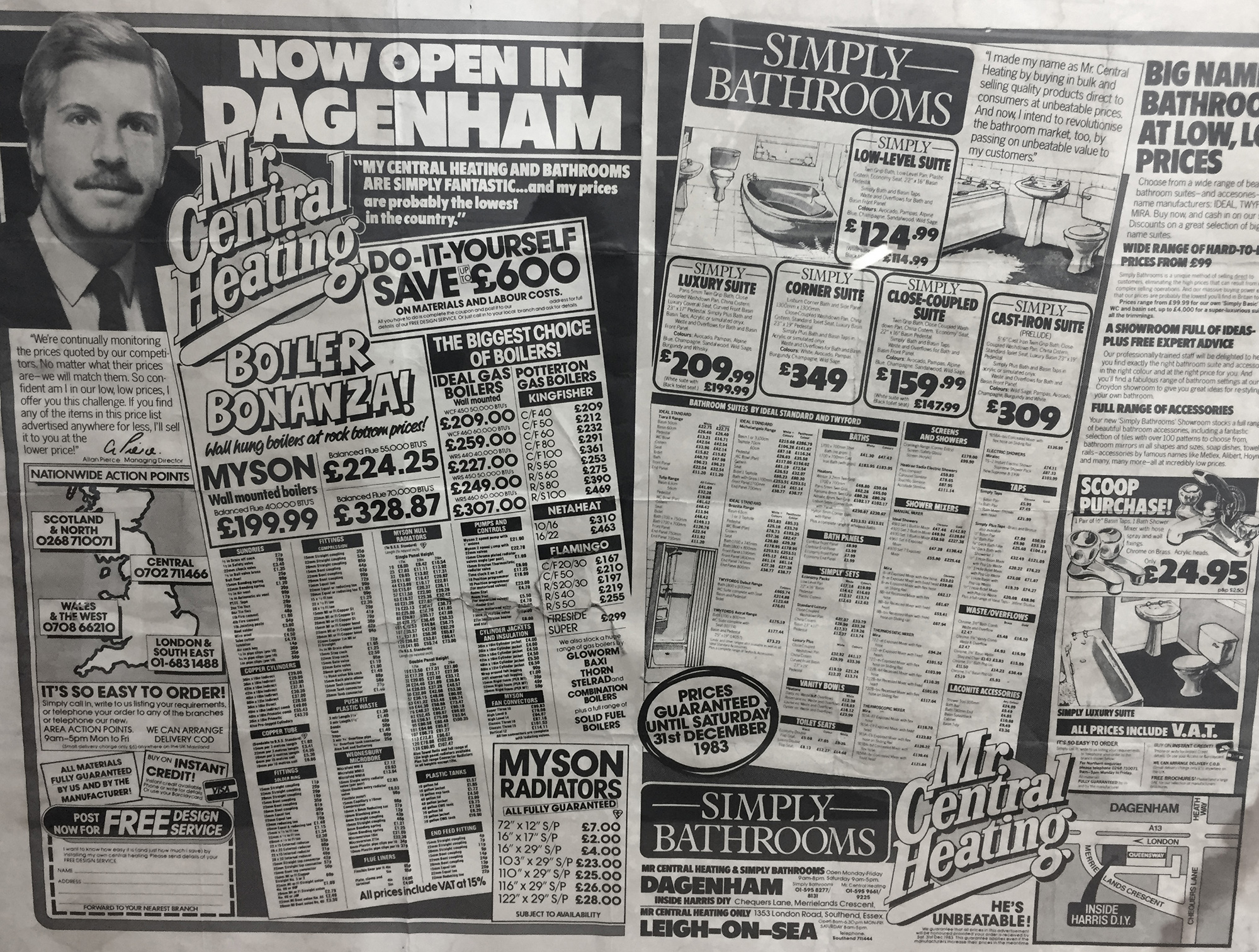 In 1989 it was all change again as a large Group Ltd purchased Simply Bathrooms and Mr Central Heating to be incorporated into a multi-discipline builders merchant. Re-invention and flexibility has always been key to Allan Pierce and with a brief spell of rest it was time to create the next brand in 1990 called Ultimate Discount Heating. This started in Billericay Essex with a small shop front store with amazingly a delivery schedule for pretty much the whole country. Twined with a depot in Tamworth the pressure to open more stores became evident to supply demand.

Croydon, Colindale and Belvedere was then added and sales increased with the popularity of Combination boilers and package deals with radiators and all the accessories required to re-fit a central heating system. During this time a fantastic relationship was founded with another local specialised plumbers merchant, Compass Plumbing and Heating who supported Ultimate Discount Heating with key products. This created a solid foundation for the integration of the two companies in 2006 and Compass Plumbing and Heating became a separate trading arm of Ultimate Discount Heating with a different outlook and customer base.

As the two separate divisions continued to grow a new avenue began to emerge which was a specialised division to supply other stockist. The brands that Ultimate Discount Heating and Compass Plumbing and heating where selling became in demand from other stockists. So in 2008 a separate division was created just to supply Independent Plumbers Merchants. This was APP Plumbing and Heating and this set about formulating a sales team directly targeting successful owner businesses in the Plumbing and Heating sector.

This was the same year that the APP wholesale Ltd company was formed and Allan Pierce became the chairman and started to steer the company in the direction it is today. The company has flexed and changed over the years but is still the same at its core, which is to offer the most competitive plumbing and heating products to all. Trading with an open and direct mind-set without an over complicated or domineering attitude to manufacturers and suppliers.